Area Residents Dominate PhotoSpiva Competition
Area residents dominate PhotoSpiva competition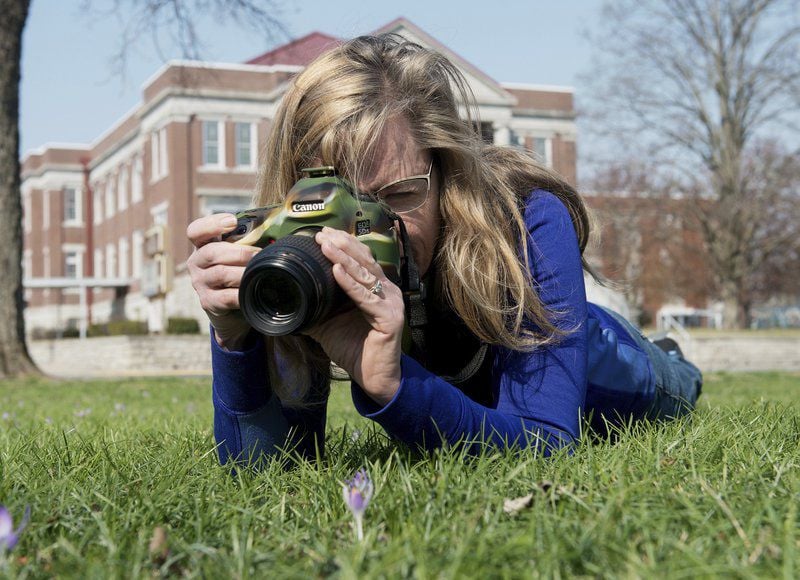 Carthage photographer Koral Martin pursues a closeup Wednesday of a spring harbinger. One of five area winners, she received an honorable mention in PhotoSpiva 2017 for her image "Trails End." It is among the 62 selected PhotoSpiva images on display to the public until April 30 at Spiva's main gallery at 222 W. Third St. GLOBE | ROGER NOMER
"Trails End," honorable mention winner by Karol Baker Martin, of Carthage. COURTESY | SPIVA CENTER FOR THE ARTS
Five local photographers — three from Joplin — took many of the top honors in the 41st annual PhotoSpiva competition and exhibition now on display at Spiva Center for the Arts in downtown Joplin.
"For a national competition like this, that is unbelievable," Josie Mai, Spiva's executive director, said of the success of the local artists. "It's unprecedented.
"This tells me that (photography) is one of our niches in the arts here."
To put the feat in perspective, only five area photographers placed among the 82 winners from 2009 to 2016 in PhotoSpiva, which is the longest running national photography competition of its kind in the United States.
Chauncey Rion Huffman, a Weir, Kansas, resident who teaches at Pittsburg (Kansas) State University, received the competition's top award with his photo titled "Patriarch."
"Not trying to be cliché, but it was euphoric," Huffman said of his win. It was the first time he'd entered the competition, he said.
"I was maybe hoping for an honorable mention … but when they announced the honorable mention and merit (winners), I thought for sure that my name wouldn't be called."
When it was called, he couldn't really believe it, he admitted.
"Luckily, my wife made it there just in time from work to see me get the award," Huffman said. "As she greeted me with a hug, I got emotional. It just didn't seem like it was real."
Like so many of the framed images on display at Spiva, Huffman said the image of the man in his winning photo is "exceptionally personal" to him. It's his grandfather.
"My grandfather has basically been my father my entire life, and he has set an amazing example for all of his children, grandchildren and great-grandchildren," said Huffman. "His work ethic, character and values have served as a model for the man I am today."
Realizing his grandfather's mortality following the latter's sudden heart attack, Huffman said he was motivated to capture the best possible portrait of his family's "patriarch."
"When I took the image, I felt like it was the most important portrait that I had ever taken," he said. "In the winning image, he is not smiling, but his face is at rest. This was the image in my head — not because he is not a happy man but because it showed all of the details of his face and, to me, all of his character."
This year, Joplin husband-wife duo Ron Erwin and Thao Nguyen won third- and second-place awards respectively, Mai said, while Joplin's Linda Ralston garnered an honorable mention. An honorable mention also went to Carthage photographer Koral Baker Martin.
Martin is another professional photographer emotionally attached to her image, "Trails End." The picture is a side profile of her father, and it was snapped during a hike several years ago inside Cumberland Falls State Resort Park in Kentucky. Following a strenuous hike through the pouring rain, they stopped to rest before driving home.
"As my dad hates to have his picture taken, I snuck a shot of him bending over, resting, with water running in rivulets down his hair," said Martin, who owns Koka Art Gallery in Carthage. Later, when her father was rifling through his daughter's photos, he came across the portrait.
"Shock of all shocks, he loved it," she said. "Wow. He said it was his all-time favorite photo taken of him." .
"My dad passed away this past year, and he is greatly missed," she added. "He is the one that I loved sharing my photos with the most, and he was my greatest critic and encourager, and I so miss that. He would have been so very pleased."
Orjan Henriksson selected the nine winners and 62 images currently on display from a pool of at least 200 entrants. Henriksson, who lives in Mullsjo, Sweden, was PhotoSpiva's first-ever international juror. His latest exhibition, "Auschwitz KZ 1-11," is currently exhibiting in Spiva Art Gallery at Missouri Southern State University.
"It's just fascinating to look at other photographers' pictures, to physically see what they saw and, if it is a good photograph, feel what the photographer felt in the moment he or she chose to capture," he said in a statement. "That is for me fascinating.
"Since I am the only juror for this competition, the choices became very personal, and I like that idea since I believe there is no universal 'good picture.' It is all about personal choice. For me, the 'perfect' picture tends to become boring. A perfect surface gets interesting when the first crack appears."
The local flavor wasn't restricted to top award-winners; nearly a dozen entrants whose work was selected by Henriksson for public display live in Jasper County.
Danny Wilson, a professional photographer from Carterville, entered the competition for the first time this year and said it "was a good day" when he learned that his image, "In Living Color," had been accepted.
"Just go and look around at all the great work that's on display there, and I get to be a part of that," Wilson said. "For me, having a piece of my work hanging on those walls is a great honor."
The 62 selected PhotoSpiva 2017 photographs are on display to the public until April 30 inside Spiva's main gallery at 222 W. Third St. The exhibit is free.
First place: Chauncey Rion Huffman, Weir, Kansas
Second place: Thao Nguyen, Joplin
Third place: Ron Erwin, Joplin
Fourth place: Sandra Chen Weinstein, Lake Forest, California
Merit award: Emily Evans Sloan, Kansas City
Merit award: Elizabeth Panzer, Accord, New York
Honorable mention: Linda Ralston, Joplin
Honorable mention: Koral Martin, Carthage
Honorable mention: Geoffrey T. Parker, St. Charles
ind up in a hospital, where they're needed most.